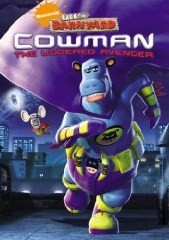 Cowman: The Uddered Avenger is a 2008 television film, produced for the Barnyard franchise. It premiered on Nickelodeon on November 28, 2008.
Plot
Cowman is assigned to protect the Jurassic Corn Creature, so when it goes missing, the townsfolk accuse him of being a thief. Then Cowman sets out to prove them wrong and protect them from their real enemies.
Voice cast
Production
Coming soon!
Reception
The film received mixed reviews. It currently has a 4.8 rating on IMDB.
Trivia
This is the only two part episode for the Barnyard franchise.
Peck makes a reference to Rob Paulsen's role on Pinky and the Brain when he tells Freddy that "Narf" is taken, which is Pinky's catchphrase. 
Gallery
Coming soon!
References