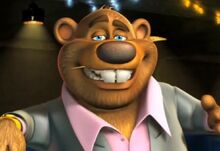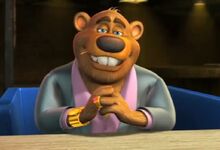 Chubbs Malone the Gopher is the current head boss of the Gopher Underground. He is also a somewhat of a gangster. His only appearence to date was in "Otis' 11." Chubbs is notorious for his Phizbin skills, sometimes being so confident as to wager extremely valuable objects, such as Otis' saloon.
In the episode, "Otis' 11," Otis betted his saloon to Chubbs, and lost. After the gang caused a rucus, they were thrown out of Chubbs' saloon. It is revealed that Chubbs both cheated Otis out of his saloon and Barnyard (which Otis gained back, by saving his life) and former-head boss, Tony Two-Cheeks, out of a job. Eventually, Chubbs becomes the comedian of Otis' saloon on Tuesdays. He is voiced by .
Personality: Chubbs Malone is a little fat gopher with scamming Phizbin skills and a high-tech power to finish all the levels of phizbin,though he uses fixed dice to win all Phizbin games.
Otis seems to find out  how powerful Chubbs Malone is. Malone is a great Phizbin player with scamming Phizbin skills dice, he scammed Otis and his barnyard gang at the same time. (by defeating otis only out of his game), Chubbs did let the barnyard gang have their old saloon back.